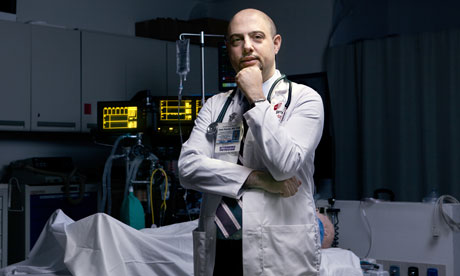 Using a technique called an ECMO, the blood of the deceased is siphoned out of the body, put through a membrane oxygenator and pumped round again. This buys the time needed to fix the underlying problem that caused the person to die in the first place. If the level of oxygen to the brain falls below 45% of normal the heart will not restart, Parnia's research shows. Anything above that and there is a good chance.

Potentially, by this means, dead time can be extended to hours and there are still positive outcomes. "The longest I know of is a Japanese girl I mention in the book," Parnia says. "She had been dead for more than three hours. And she was resuscitated for six hours. Afterwards, she returned to life perfectly fine and has, I have been told, recently had a baby."
Via Sam Parnia – the man who could bring you back from the dead | Society | The Observer.